We Guide You to Your Next Home
We're here to be your advocate and partner throughout the home buying process. Our mission is to provide you with a seamless and enjoyable experience.
From leveraging the latest technology tools to assist in your home search to navigating local and legal ownership requirements, we'll get you through with integrity and collaboration. The more complicated parts of the process are where we excel. Let us share our expertise and passion for real estate with you.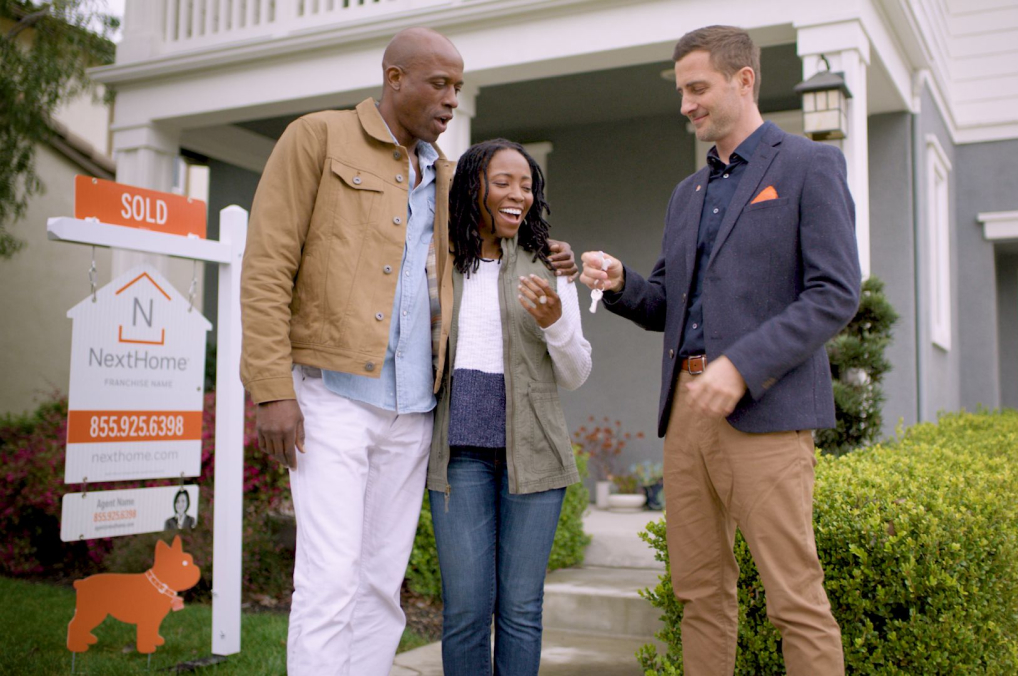 Buying a Home, the NextHome Way
Testimonials
" For as long as I've known him, Patrick has been taking classes or seeking resources to broaden his knowledge and skills. I am especially impressed by the way he always interprets his lessons with focus on the client experience. Making the process easy and stress free for them is his primary goal. So when he chose to work for an agency with the tag line "Humans over Houses" I knew it would be a perfect fit. Even though we don't live in the same region, Patrick has been so generous with time and resources to help family and friends buy and sell their homes. If you are buying or selling in his region, I highly recommend working with him. "
- Celia B
" Beryl was fantastic. She took the time to get to know me and what I was looking for. She was thorough, kind, and very knowledgeable. All of my questions were answered & she made the entire process fun and simple. I highly recommend! "
- Christopher Janc (Couldn't recommend more!)
" I have used Nanci for both purchasing and renting property in Ramsey, New Jersey. Nanci is a rare gem as a realtor in how much she cares about her clients on a level that goes far beyond just being a realtor. I could not recommend her enough! "
- Chenay Baxter-Clark
" I have known Nanci for many years and have not only used her but also referred her to many friends and family. Nanci is so upbeat and always has a positive attitude. Nanci has always gone above and beyond to help.Everyone has been happy and satisfied with Nanci as their realtor and the help they received. Just recently Nanci help my son, daughter in law and grandson find their first home. In this past year that has been so difficult and very stressful for so many, Nanci made this experience for them so positive. Nanci guided them every step of the way through this process. Nanci will always look out for the clients best interest. Nanci is an amazing realtor and I have and also will highly recommend her to family and friends. "
- Donna Barchefski
" I have known Nanci and worked together for many years never one to disappoint. She knows the business better than most and is a pleasure to deal with. Given the need I would ask hew to help me agai. Thank you Nanci and keep it going. "
- John Vaughan (Customer )
" Nanci and I have been friends for some time now in business and personal. I would recommend anybody to do business with her. "
- H.Kupa
" Nanci has the qualities that make her an extremely successful and effective broker. I can't say enough about her professionalism and knowledge within the industry and area. She has high integrity and is very conscientious and tenacious, always keeping the clients best interests in mind. She does a great job of listening to her client's needs and does not waste time showing properties which do not meet the client's objectives. She does research to assist with assessing a fair market value of the property for the offer and then negotiates effectively with the opposing broker on behalf of the client. One of the qualities I respected the most was her no-nonsense style. She gets to the point quickly yet professionally, always respecting the clients time. She is extremely responsive to questions. She shows great attention to the details enabling the transaction to get done. I have the highest level of confidence in her. "
- Gregory Heleine
" Justin is a fantastic realtor! He went above and beyond to help me find a home in this difficult market, and was honest with me the entire time. He didn't rush me, and he was sure to point out anything he was concerned about on a property or if the sellers demands were unreasonable and I never felt pressured during my time working with him. He made buying my first house (relatively) stress free. I would definitely recommend using Justin as your realtor. He did a awesome job! "
- Tobias Noll
" Beryl Li is truly a professional. She is knowledgeable about the process and is there through every step. "
- Melinda Alvarado
" Nanci was our realtor when we bought our house seven years ago. She went above and beyond in helping us find the perfect house. We were on a time crunch, and she left no stone unturned to find us the perfect house. She is our go to realtor, and the person we will call when it is time to sell (which may be awhile, because she found us the perfect house)! You will not be disappointed if you choose Nanci to represent you. "
- Karen Felicetti
" I can't say enough good things about Beryl. The home purchasing process can be stressful and exhausting but Beryl made it easy with her abundance of knowledge, understanding, and honesty. She was extremely reliable and quickly answered any and all questions we had. We have already recommended her to friends and family confident that she will provide them with the same exceptional service. "
- Joli C
" Beryl is friendly, responsive, thoughtful, and extremely capable. We always feel comfortable sharing our concerns with her and she listens with kindness and patience as she helps us move forward. If you are looking for someone who will take their time and give you the attention you deserve, Beryl is the one for you. Tremendously professional and resourceful! "
- Mary Noto-Gilroy
" Beryl is reliable, knowledgeable, responsive and an absolute pleasure to work with! "
- Suzanne Mazziotta
" I would highly recommend Patrick to anyone in the market to buy a house. Not only does he have a strong attention to detail but he is very easy to communicate with. His honesty and eagerness to find the perfect home for you and your family will be shown immediately when working with him. "
- Peter Wrocenski
" Reliable, kind, understanding..was a pleasure to work with. Beryl made certain that all my of questions and concerns were addressed, while providing the upmost excellent service. I seriously cannot say enough good things about Beryl. Just a truly kindhearted, smart, respectful person. "
- Susan Cofnuk
" We have known Nanci for several years and we were so lucky that she was able to help us to sell our house. She is an honest, straightforward, generous and talented Realtor and if you are looking to sell or buy a house - look no further! Nanci did Open House's for us on both Saturday and Sunday. She had a wonderful photographer she used to take pictures that made our house look so inviting and very sellable! Nanci acted as a fiduciary for us throughout the whole process. She watched the housing market and would send us updates as to what houses in the area were selling for and how they compared to our house. We never even had time to look at the information before we received her emails. So informative! She was an awesome liaison with the Attorney that we used and also our town boro hall. She was right on top of the inspections and often referred people who could give us estimates if something needed attention before we sold. If someone needed to see the house or someone needed to be at our house when we were not available, not only did Nanci come over and meet them, but she would take care of our dog while they were there! You just don't get the opportunity to deal with professionals like Nanci so if you do get the chance... grab it! Call her. She will get the job done! Of course she sold our house in Glen Rock, NJ and we can't thank her enough for everything she did for us. "
- Eileen Vaughan (Executive Client Service Associate)
" Nanci Lieneck did a wonderful job selling my condo! It went so smoothly and she relieved all my stress regarding this transaction. My son Dan Boffa referred her to me and I will certainly refer her to others! "
- Barbara Lee Murphy
" Nanci became a part of our family when we were looking for a home. She took such amazing care of us even when we had crazy requests. She found the perfect house for us...even though my husband and I had different ideas for what we wanted. We are so thankful for Nanci! "
- Andrea Boffa
" Nanci, was the BEST realtor we could have hoped for. She went above and beyond. She anticipated needs and met them all with a smile on her face and expert advice. She exceeded expectations throughout the entire buying process and was incredible, knowledgeable, through every stage of of selling our home. She was an ally, friend, and advisor and helped us navigate a difficult time to buy a house! We felt like we were constantly "ahead of the curve" in every step of the process, which was entirely due to Nanci's thoroughness and dedication. We always knew Nanci had us covered. We cannot imagine a better experience and cannot wait to refer other people moving forward. "
- Sherlie N
" Nanci is absolutely phenomenal! Throughout the years she has helped us find multiple apartments to eventually helping us find our first house! She is honest and transparent in the process and what we can expect when buying a house. She listened to our concerns, what we absolutely needed to have and what was on our wish list. When walking through each house, she focused on the positives and the potentials, but was also educational and honest about what to pay attention for. She guided us on what offer to put in and our offer was the first to be accepted! She was with us every step of the way, we owe every positive ounce of the experience to her! We hear all the time how stressful buying a house can be, she made it EASY! "
- Samantha Barchefski (Customer Logistics Manager)
" A few years ago I needed a realtor & Nanci was highly recommended by a friend. Nanci told me exactly what needed to be done & she took care of everything. I can't believe how quickly the house sold. I will always refer Nanci to friends & family. "
- Sheila Kornreich
" Patrick is professional, thoughtful, insightful, reliable, knowledgeable and will go the extra mile to help you. I highly recommend him. "
- Nancy Ragusa (Executive Assistant )
" Nanci was very helpful in finding our home. She worked on providing a lawyer who was very throughout and made sure that we get all the necessary inspections and certifications. She made the process very smooth and I was proud to be her first client in 2009. "
- STEVEN M OWEN (Project Manager)
" Nanci, was the BEST realtor we could have hoped for. She went above and beyond throughout the entire buying process and was incredible, knowledgeable, through every stage of of selling our home. She anticipated needs and met them all with a smile on her face and expert advice. We cannot imagine a better experience and cannot wait to refer other people moving forward. We can not say enough great things about her! "
- MERKENS and Sherlie Narcisse
" Nanci is great at her job, she helped us find a home in what we were looking for and within our budget. she went above and beyond her job as a realtor and we are very greatful for that, thank you so much Nanci, we really appreciate it very much. "
- Sharon Pope
" Although Patrick and I do not live in the same state, I did ask for his assistance when I was ready to buy a new home. He connected me with an excellent agent in my area who quickly helped me find what I was looking for. Patrick was in contact and supportive through the process and has also followed up frequently on the progress of making my home ready. I appreciate his attention to detail and ability to guide me in this recent endeavor. "
- Pamela Etherton
" I have used Nanci Lieneck for three real-estate transaction from buying and selling. She has always had my best interest first. She is so professional from start to finish, that my family members have used Nanci also and recommended her to tjier family and friends. I will always use Nanci for my real-estate needs "
- Tom Leathem
" Without hesitation we would recommend Nanci to any of our friends. Among the many reasons that we appreciated having Nanci on our side as we went through the real estate process, five stick out: 1. When we could not get to see a property because we were out of town, she would do video tours with us on our phones; 2. Always flexible with meeting our schedules; 3. Always available when we had questions, and walked us through what to expect and let us know what was not acceptable; 4. Stuck with us through four different offers - including (thankfully) steering us away from one as more information became available; and 5. Fundamentally, we felt like we could rely on her judgment and advice as we navigated a hot market that we knew nothing about. Nanci provided everything that we would have expected from an agent and a lot more. We unconditionally recommend her. "
- John and Andrea R.
" We couldn't of asked for a better realtor. He listed the house as coming soon and in less than 12 hours we had an over asking price sight unseen. Within a week we had 42 offers and he helped us understand them all. He went above and beyond as he mowed our lawn. He met with the town inspector and made sure the sale went off without a hitch. Not only were we happy getting 95,000 over asking the buyers truly loved our house and that made us happy too "
- Shirlee Wilson
" Beryl is absolutely amazing! Not only does she know her market but she is also extremely kind & caring. We all know home buying can be stressful but Beryl really made the process A LOT easier. I highly recommend her!! She's a pleasure to work with!! "
- Aimee Venckus
" It was truly a pleasure working with Nanci. We met by chance and I'm happy I had the opportunity to work with her directly. Nanci was and informative resource that kept my best interests at the forefront during the entire process. During the purchase process, it's important to have people that you can trust in your corner and Nanci was definitely that and more. I'd work with her in a heartbeat and will keep in touch so I can recommend her to friends and colleagues looking to sell or make a purchase. Thank you for all you've done Nanci! "
- Maureen Charles (Director of Marketing)
" Nanci was absolutely amazing. As first time home buyer Nanci explained and was extremely thorough with our search. Nanci is knowledgeable in what she does. She was patient and understanding. I loved working with her. She always was available and did everything she could to be there for us whether it was a call or a meet. Highly recommend "
- Samantha palino
" Nanci helped me get my first apartment. Since this was the first time I've ever used a real estate agent, she was really patient with me and all my questions. If anyone needs someone to help them in real estate, I would refer them to Nanci so they would get the best service possible. "
- Scott Leathem (Sports Director)
" Whether you are buying a home or selling, you will be in good hands with Patrick. He is professional, knowledgeable, and always there to answer any questions. He never makes you feel like a bother. Patrick makes the entire process easier, and I can't recommend him highly enough. "
- Mike James
Previous
Next